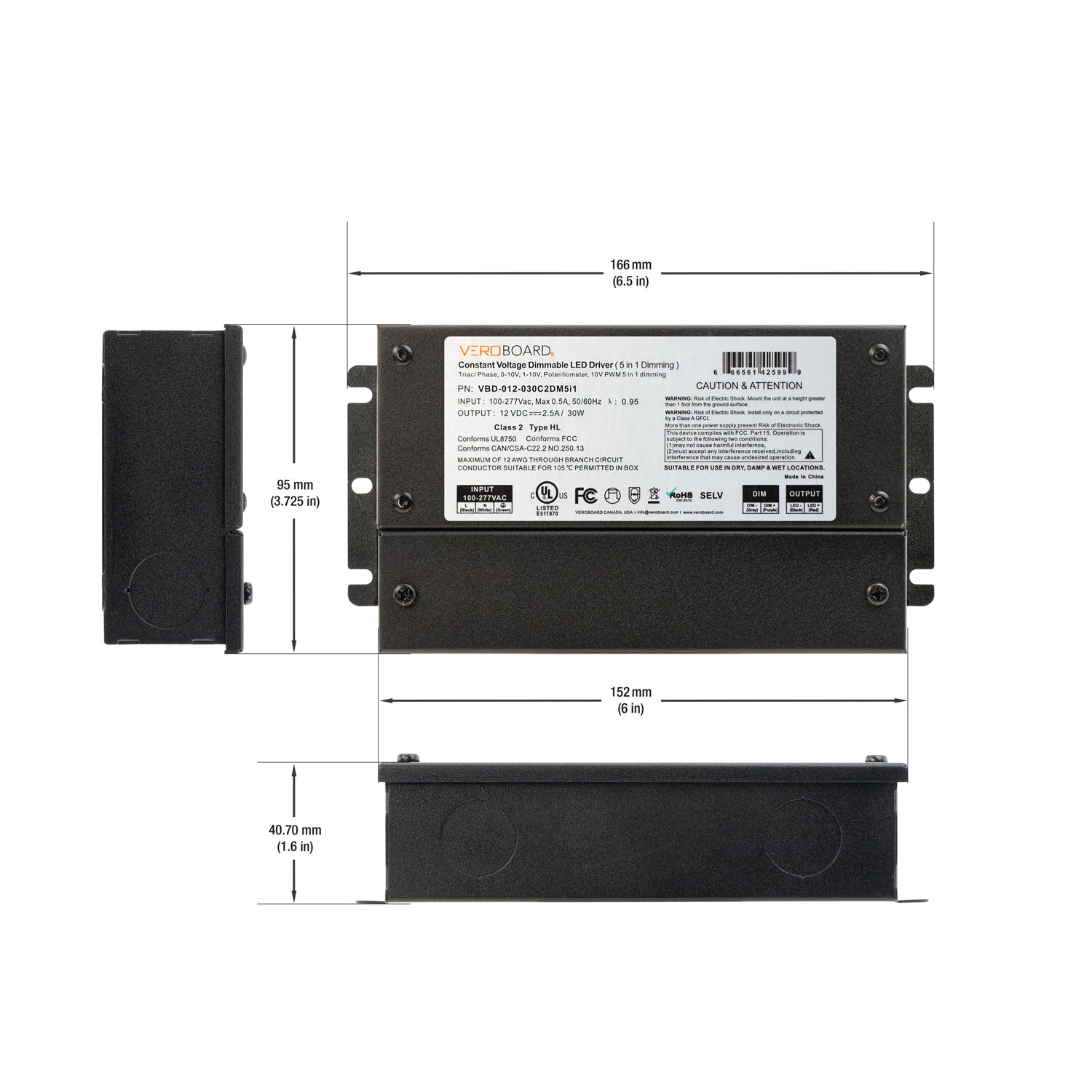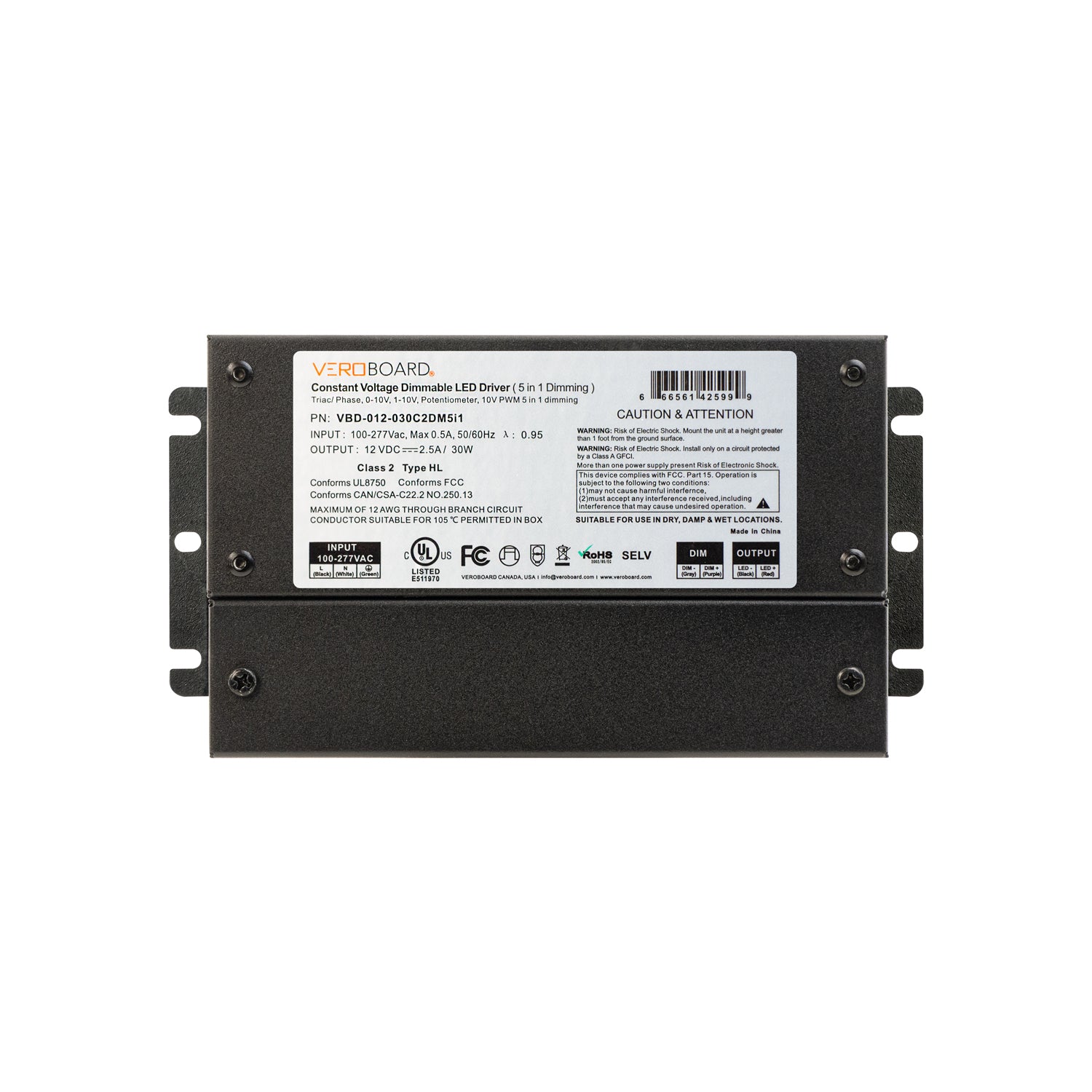 VBD-012-030C2DM5i1 Dimmable Constant Voltage LED Driver (5 in 1) 12V 30W
VBD-012-030C2DM5i1 Triac/Phase, 0-10V/1-10V, Potentiometer, 10V PWM Constant Voltage Dimmable Driver (5 in 1) with Input Voltage: 100-277V AC, Input Current: 0.5A, Input Frequency: 50-60 Hz, Output Voltage: 12V DC, Output Current: 2.5A, Max Load: 30W
Model No:

VBD-012-030C2DM5i1

Input Voltage:

 100-277V AC

Input Current: 0.5A
Input Frequency: 50-60 Hz
Output Voltage: 12V DC
Output Current: 2.5A
Max Load: 30W (2.5A)
Dimmable: Yes (Triac/Phase, 0-10V/1-10V, Potentiometer, 10V PWM) 5 in1 Dimming

IP Rating: IP65 (Dry, Damp, and Wet Locations)
Class Certifications: Class 2 Type HL
Dimensions: 166 x 95 x 40.7mm (6.5 x 3.7 x 1.6in)
Wiring/ Housing: Hardwire
Operating temperature: at least 90℃
Certificates: FC/ UL/ RoHS
The VBD-012-030C2DM5i1 sets the bar as a state-of-the-art solution for both powering and dimming 12V LED lighting systems. Its impressive capabilities make it a versatile and adaptable choice across a multitude of applications. A highlight among its features is the 5-in-1 dimming capability, which makes it compatible with a diverse range of dimming protocols, encompassing Triac/Phase, 0-10V/1-10V, Potentiometer, and 10V PWM. This adaptability empowers users to seamlessly tailor the driver to their specific lighting control requirements.

Functioning within a broad input voltage range of 100-277V AC and an input current of 0.5A, the VBD-012-030C2DM5i1 can supply a robust 30W of power to the connected 12V LED lighting system. It maintains a steady output voltage at 12V DC, ensuring unwavering and stable illumination. With an output current of 2.5A and a maximum load capacity of 30W, it accommodates various LED lighting configurations.

Designed to excel in diverse environmental conditions, this driver proudly boasts an IP65 rating, rendering it suitable for installation in dry, damp, and wet locations. Additionally, its Class 2 Type HL certification underscores its adherence to safety standards, even in potentially hazardous locations. Compact in size, measuring 166 x 95 x 40.7mm, the driver can be easily hardwired. With its impressive temperature resilience and certifications from FC, UL, and RoHS, the VBD-012-030C2DM5i1 epitomizes both reliability and adherence to critical safety and environmental standards.