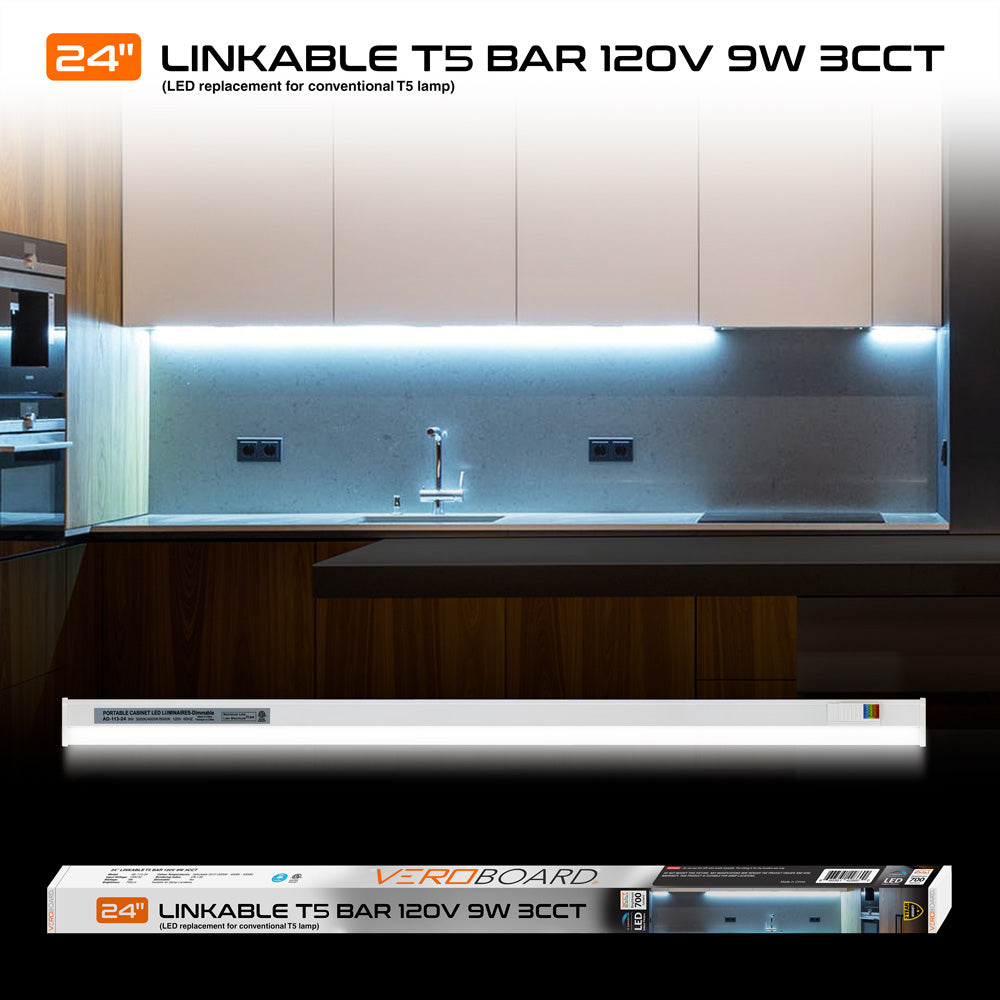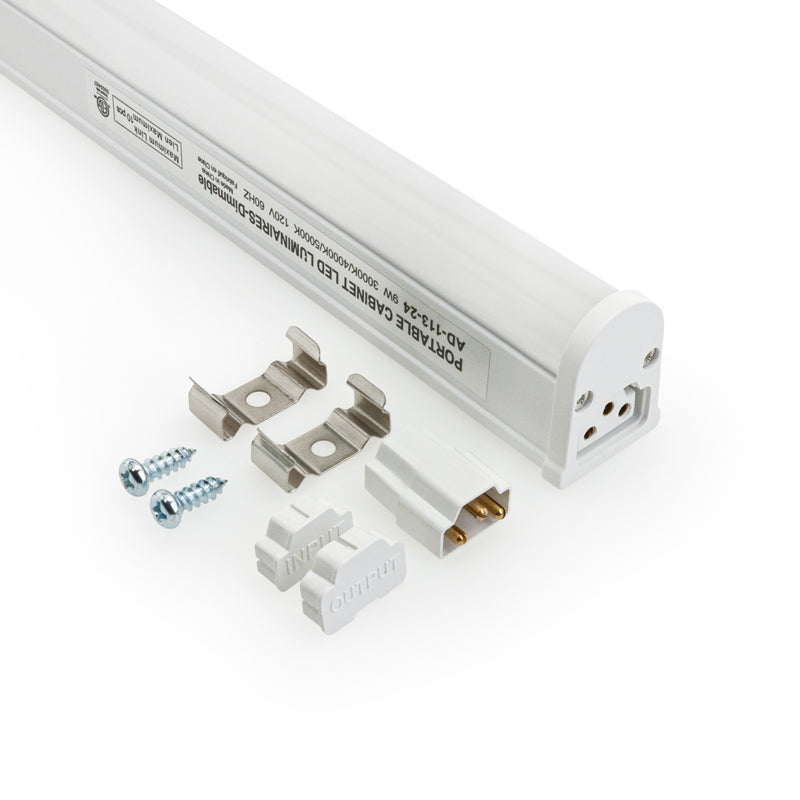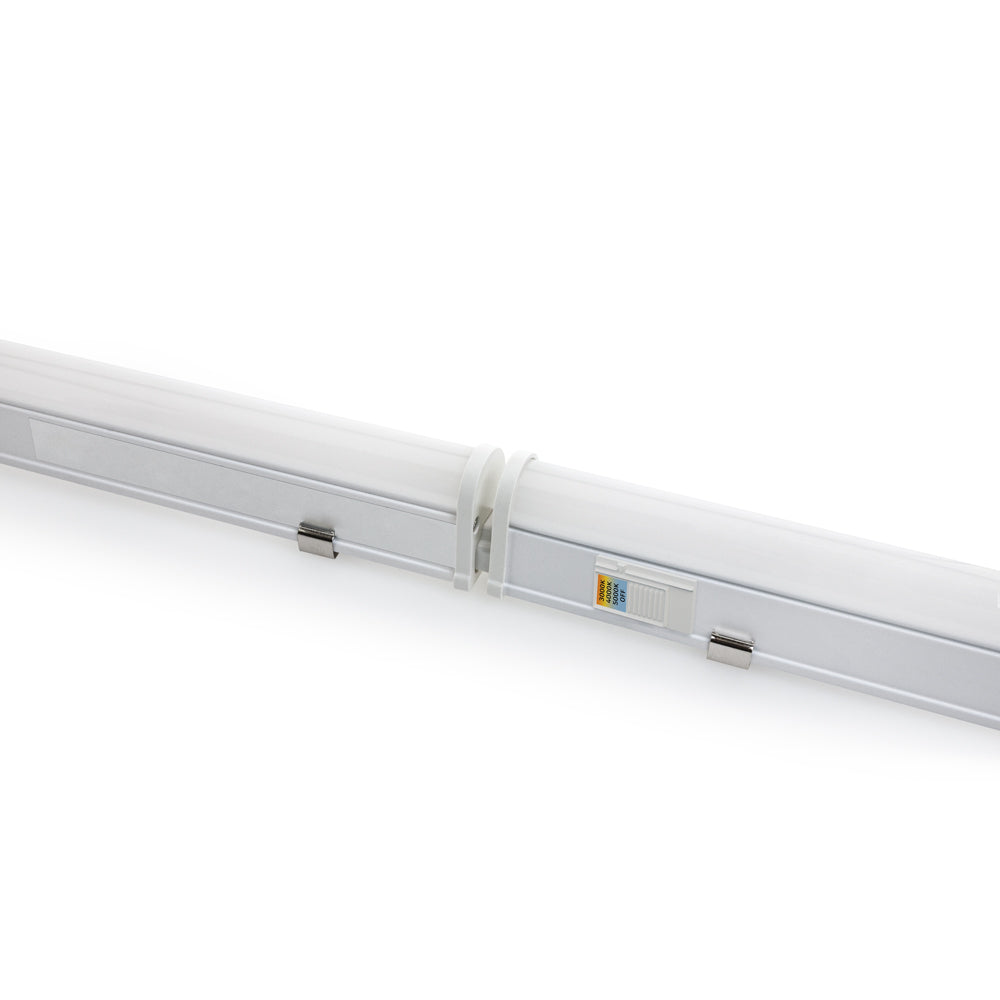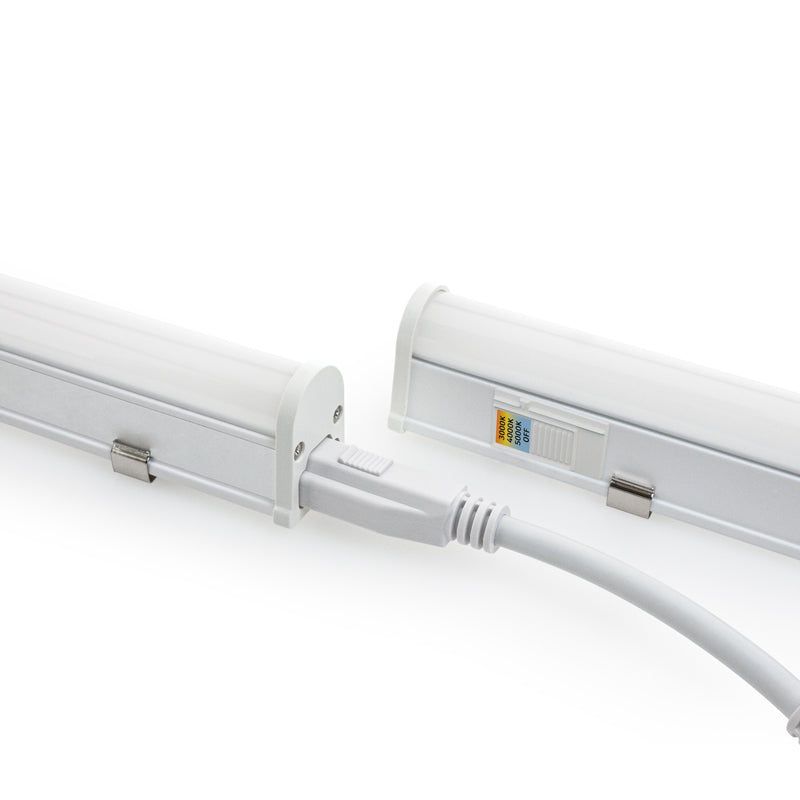 T5 Bar 24 inch 120V 9W 700Lm 3CCT Selectable(3K, 4K, 5K)
T5 Bar 24 inch Linkable LED Linear Light with Input Voltage 120V, Wattage 9W, Brightness 700 Lumens and selectable color temperature is a low power consumption with high energy efficiency that creates an even illumination without any hotspots. The fixture is available in 24" length with three selectable color temperature.
Model No:

 AD-113-24

Input Voltage: 120V
Wattage: 9W
Brightness: 700 Lm
Color Temperature:
Selectable 3CCT
3000K (Warm White)
4000K (Natural White)
5000K (Daylight)
Fixture Color: White

Rendering Index: CRI>90
IP Rating: IP20 (Indoor Rated)
Dimmable: Yes
Package Content: Back to Back Connector
Mounting Clips & Screws
Dimensions: 

609.6 x 33 x 25.3mm (24 x 1.3 x 1in)

Certificate: ETL
Low power consumption, high energy efficiency
Widely popular in wardrobe, cabinet, shelves of a modern kitchen. Applicable for cabinets, shelves, closets, ceiling, shower doors, windows, accent lighting, stairs, etc, and much more. It has a switch of its own on the fixture.

The T5 Bar 24 inch 120V 9W 700Lm 3CCT Selectable(3K, 4K, 5K) is a high-quality LED light bar that is designed for indoor use. The model number for this product is AD-113-24.

This light bar operates on an input voltage of 120V and has a wattage of 9W, making it energy-efficient and cost-effective. It produces a brightness of 700 Lumens, which is suitable for illuminating various indoor spaces.

One of the standout features of this light bar is its selectable 3CCT color temperature, which allows users to choose from three different options: 3000K (Warm White), 4000K (Natural White), and 5000K (Daylight). This feature ensures that the lighting can be customized to suit the user's preference or specific application.

The fixture color of the T5 Bar is white, and it has a rendering index (CRI) of greater than 90, which means that it accurately represents colors. It is also rated IP20, which indicates that it is suitable for indoor use.

The light bar is dimmable, which means that users can adjust the brightness as needed to create the desired ambiance or level of illumination. The package content includes a back-to-back connector, mounting clips, and screws for easy installation.

The dimensions of the T5 Bar are 609.6 x 33 x 25.3mm (24 x 1.3 x 1in), making it compact and easy to install in various indoor settings. It has an ETL certification, which guarantees that it meets the required safety and performance standards.