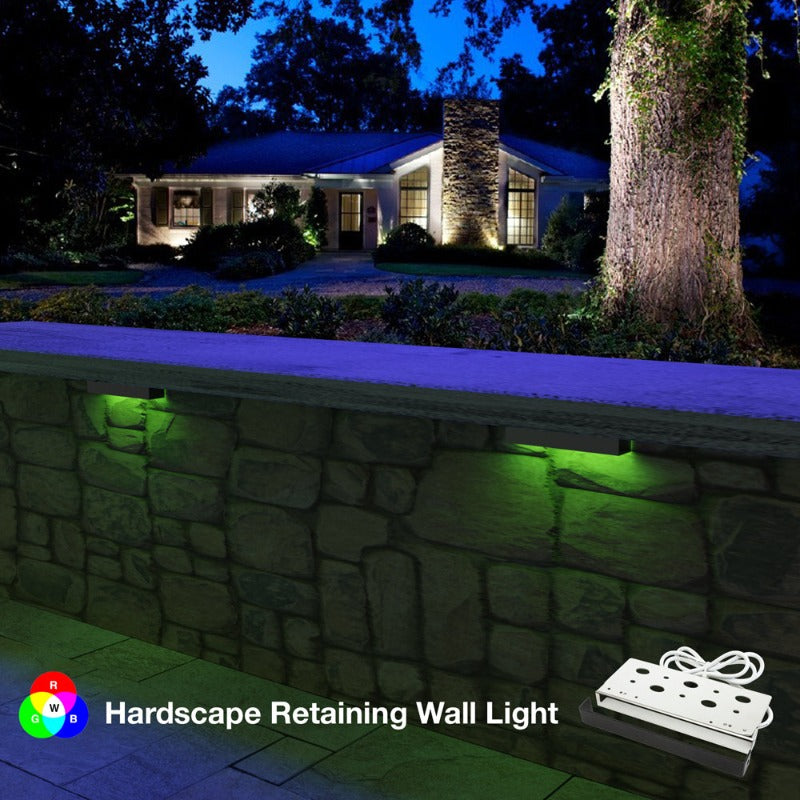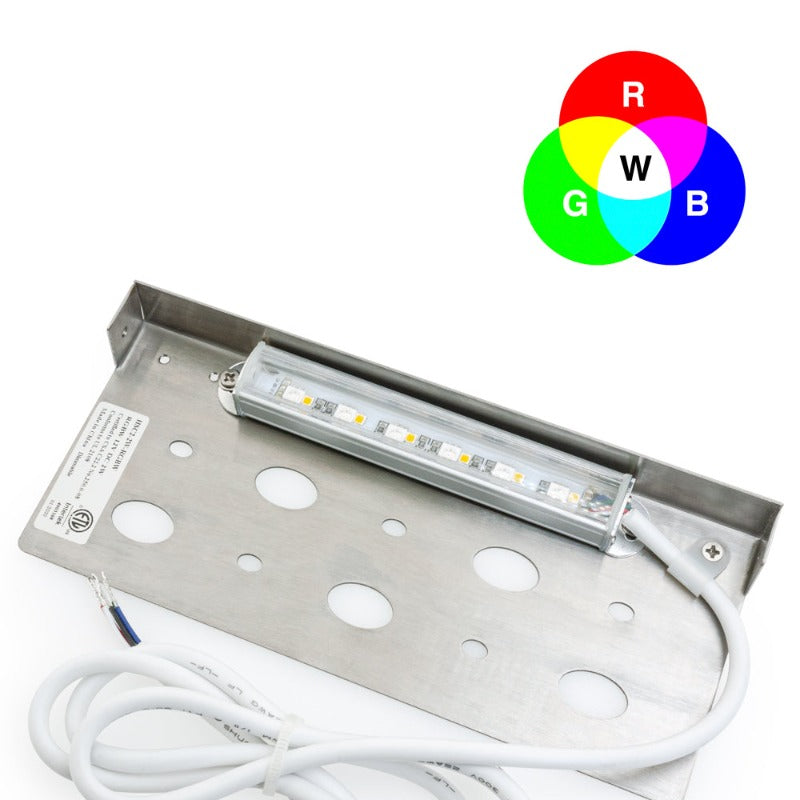 HSC2-2W-RGBW 7inch Hardscape Retaining Wall Light RGBW
Outdoor Step Lights: The HSC2-2W-RGBW LED low voltage step lights are designed to thrive in outdoor conditions, with a working temperature range of -4º F to 122º F and an impressive IP67 waterproof rating. Widely Used: These versatile lights are powered by 12V AC/DC voltage, making them suitable for illuminating a variety of outdoor spaces, including landscape steps, retaining walls, decks, flowerbeds, and masonry walls.

Model No: HSC2-2W-RGBW
Voltage: 12V AC/DC
Wattage: 2W

Light Source:

6 SMD

Light Color: 

RGBW (Multi-Color, RGB + Warm White)
Front Cover Color Finish
(Sold Separately): 
Matt Black (SKU: 

666561425234

)
Brushed Nickel (SKU: 

666561425210

)


Housing Material:

Aluminum with powder coated Stainless Steel plate
Beam Angle: 45°

IP Rating:

IP67 (Outdoor Rated)

Brightness:

180 Lumens

Dimmable:

Yes

Dimensions:

175 x 76.5 x 20mm (6.9 x 3 x 0.7 in)

Wire Gauge: 

5 feet of AWG 22

Product Content: 

Selected Front cover with mounting Screws, colored film/diffuser, Wall light
Cable Connector (Sold Separately):
3W-YC-RGBW   SKU: 666561432904
(22 AWG up to 2x14 AWG)

Certificate:

ETL
The HSC2-2W-RGBW 7inch Retaining Wall Light is a model of outdoor lighting designed for use in retaining walls or other outdoor structures. It operates at a voltage of 12V AC/DC and has a wattage of 2W. The light source consists of 6 SMD (surface-mounted device) LEDs, which can produce a range of colors including RGBW (multi-color, RGB + warm white).

The front cover of the light is sold separately and is available in two finishes: matte black and brushed nickel. The housing material is aluminum with a powder-coated stainless steel plate. The light has a beam angle of 45° and an IP rating of IP67, which means it is designed to be resistant to outdoor conditions such as water and dust.

The brightness of the light is 180 lumens, and it is dimmable. The dimensions of the light are 175 x 76.5 x 20mm (6.9 x 3 x 0.7 in), and it comes with 5 feet of AWG 22 wire gauge. The product content includes the selected front cover with mounting screws, a colored film/diffuser, and the wall light itself. The light is certified by ETL (Electrical Testing Laboratories).