DMX512 and RDM Decoder
• Master & decoder mode, RDM function
• Metal housing, digital display to show data directly, easily to set and show DMX address.
• Total 5 PWM output channels, common anode. DMX channel quantity from 1CH~5CH settable
• PWM output resolution ratio 8bit, 16bit settable.
• Output dimming curve gamma value from 0.1 ~ 9.9 settable.
• Decoding mode settable.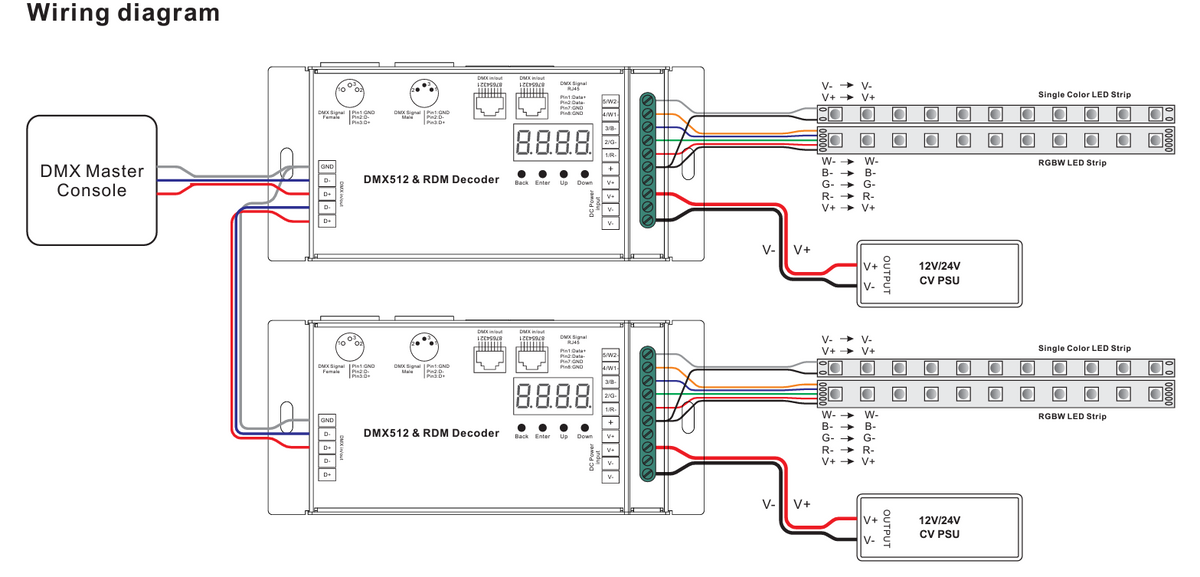 Model No:

 

VSR-2108A-M5-5

Output Type: Constant Voltage
Operating Voltage:

 12-24

V DC
Input Current: 40.5A
Output Current: 

40A max (8A/CH)

PWM Frequency: 500Hz to 30K Hz
Power: 5 x 192W for 24V and 5 x 96W for 12V
Control Channels: 5 channels (5 CH)
Signal Input & Output: DMX512 
Terminals: 3/5 pin XLR, RJ45, screw terminal

Bit Rate: 8 bit/ 16 bit
Body Color: Black
Material: Die-cast Aluminum
Working Temperature: -20°C~+50°C
IP Rating: IP20
Protection: Short circuit protection
Dimensions: 165 x 73 x 38 mm (6.5 x 2.9 x 1.5 in)
Certifications: FCC/RoHS
The DMX512 and RDM Decoder Model No: VSR-2108A-M5-5 is a device designed for controlling LED lighting fixtures. It has a constant voltage output type and can operate with an input voltage range of 12-24V DC. The device can handle an input current of 40.5A and can provide an output current of 40A max (8A per channel).

The PWM frequency of the device ranges from 500Hz to 30K Hz, which allows for smooth and flicker-free dimming of the connected LED fixtures. The device has a power rating of 5 x 192W for 24V and 5 x 96W for 12V, which makes it suitable for use with high-power LED fixtures.

The VSR-2108A-M5-5 has 5 control channels (5 CH) and can be controlled using DMX512 signals. The device has multiple input and output terminals, including 3/5 pin XLR, RJ45, and screw terminal. It supports both 8-bit and 16-bit bit rates.

The body of the decoder is made of die-cast aluminum and is black in color. The device has short circuit protection and can operate in temperatures ranging from -20°C to +50°C. It has an IP20 rating, which means it is protected against solid objects greater than 12.5mm in diameter but is not protected against liquids.

The VSR-2108A-M5-5 measures 165 x 73 x 38 mm (6.5 x 2.9 x 1.5 in) and is FCC and RoHS certified, indicating that it meets the safety and environmental standards set by the relevant regulatory bodies.

This DMX 512 RDM decoder has a function to intercommunicate between DMX master and decoder. It converts DMX512 digital signal to PWM signal by setting DMX decoder's address by DMX master console. The RDM function allows 2-way communication between the controller and a computer or smart device. The device controls up to 5 different single-color 12-24 VDC LED products, 1 WRGBW light strip, RGB, or RGBW LED light. The decoder operates on DMX512 digital control signals using 3 or 5 pin XLR, RJ45, or screws for input/output terminals. Moreover, it powers without flashing and achieves maximum dimming capability without flicker. Lastly, it uses galvanic isolation for short circuit prevention.