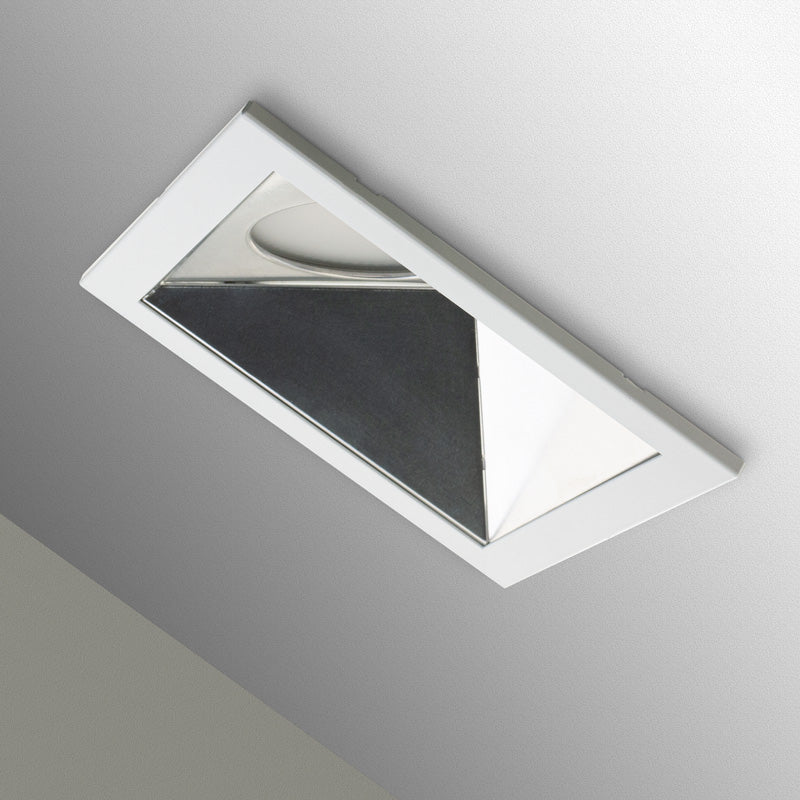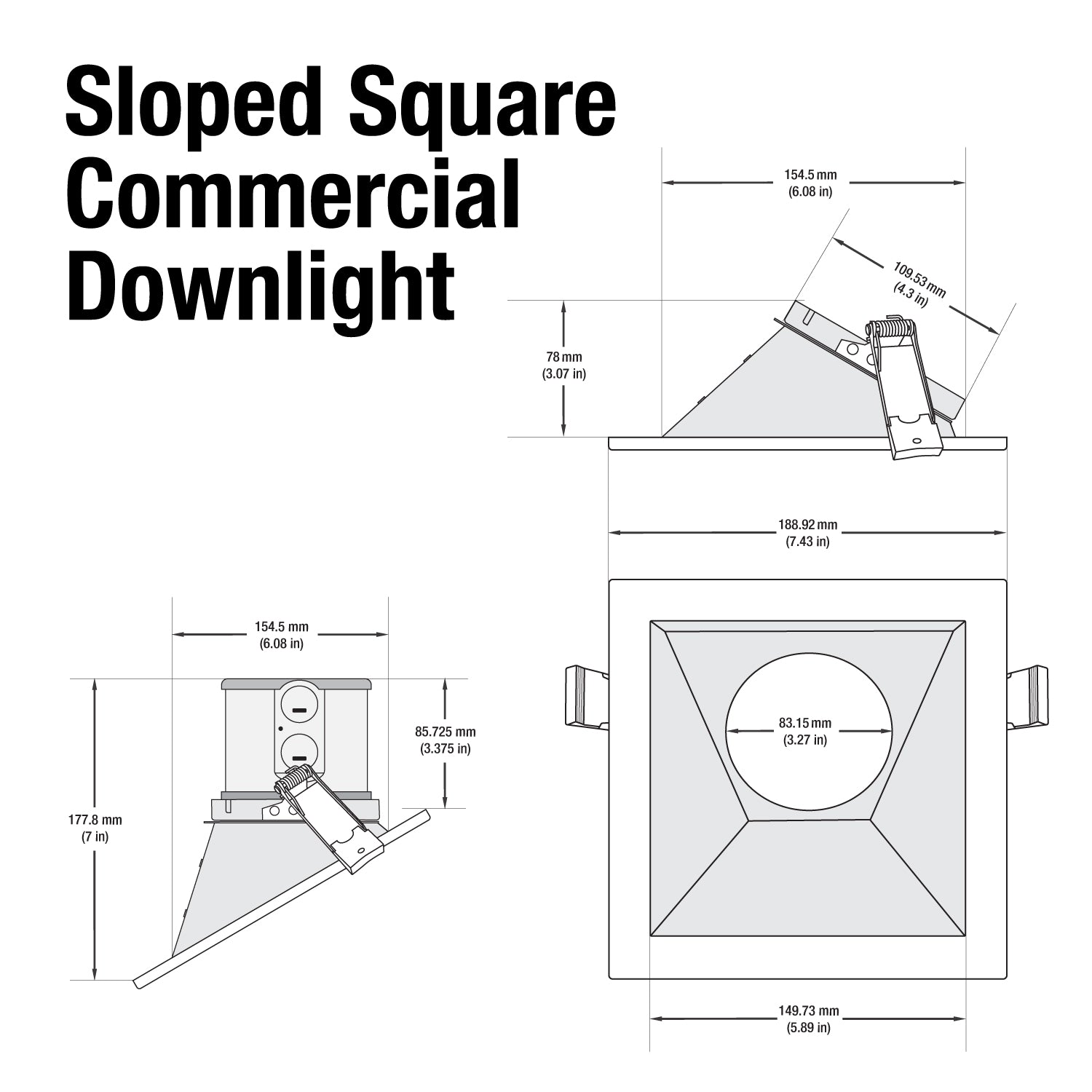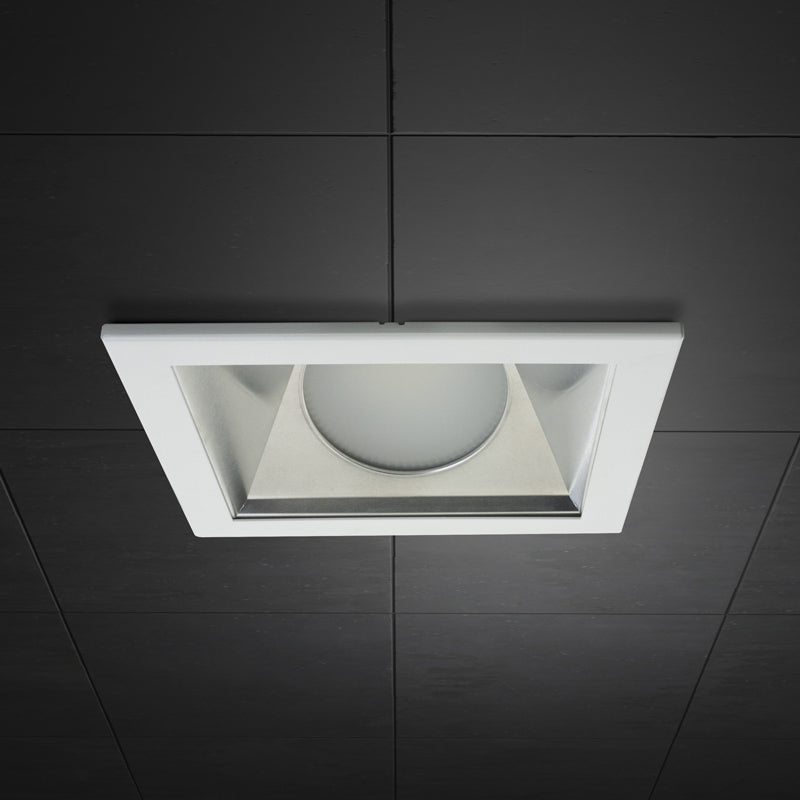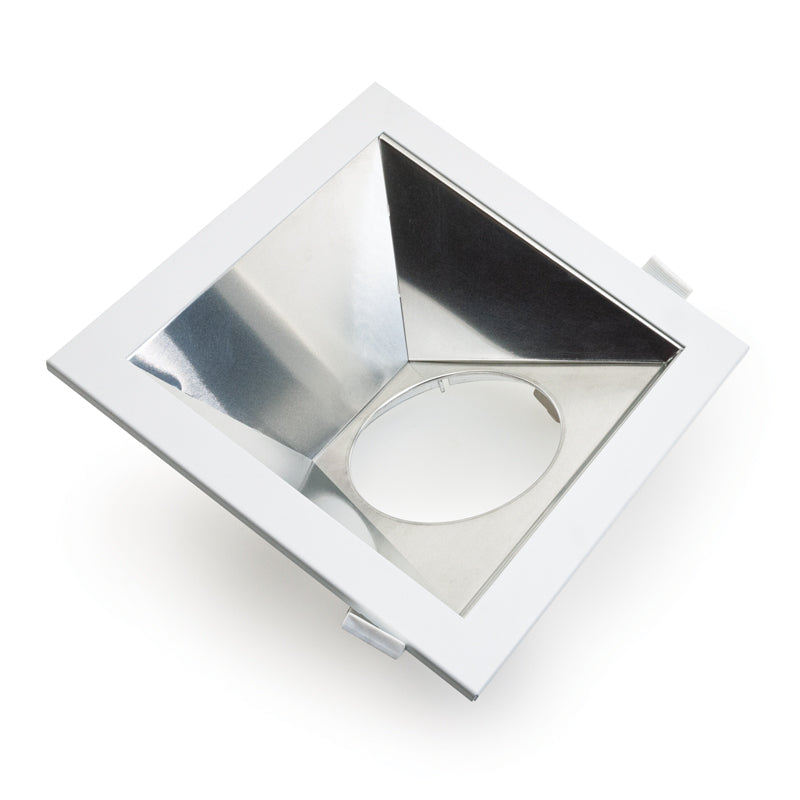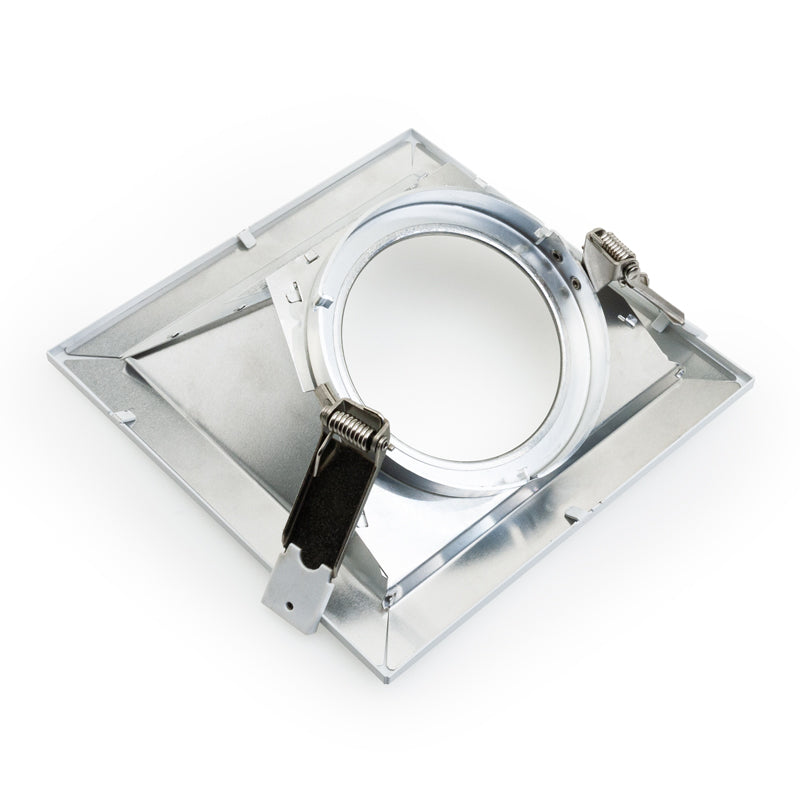 6 inch LED Commercial Ceiling Light Sloped Ceiling Reflector Square Trim
VBD-COM-6-xxxx-6SLS 6 inch LED Commercial Downlight Sloped Ceiling Reflector Square Trim with Input Voltage 120-347V AC, Wattage 20W, Brightness 1570Lm, Choose the options which best suits you. Warm White (3000K), Natural White (4000K), and Daylight (5000K). The 20W engine is compatible with all commercial lighting reflector trims (CPS series Model). Applicable for Indoor use only (dry and damp locations)
Model No: 
VBD-COM-6-3K-6SLS
VBD-COM-6-4K-6SLS
VBD-COM-6-5K-6SLS

Input Voltage: 120-347V AC
Wattage: 20W
Input Current: 0.2A
Available Color Temperature:
3000K (Warm White)
4000K (Natural White)
5000K (Daylight)

Brightness: 1570Lm
Frequency: 50-60 Hz
Beam Angle: 70º

Trim Type: Open reflector trim
Color: White
Lifespan: 50,000 hours 
Dimmable: Yes (0-10 Dimming)
Package Content: 
J Box structured engine
Reflector trim

Dimensions (Reflector): 
Diameter- 189mm (7.43 inch)
Overall depth- 177.8mm (7 inch)
Dimensions (Cut Size): 


154.5mm (6 inch)



Certification: UL/ Energy Star
Beam Details
Beam Angle 7
0º
 Metric
Imperial

| | | |
| --- | --- | --- |
| Distance |  Beam Width | Lux |
| 1m | 1.4m | 1213 lx |
| 2m | 2.8m | 303 lx |
| 3m | 4.2m | 135 lx |
| 4m | 7m | 76 lx |
| 5m | 7m | 49 lx |

| | | |
| --- | --- | --- |
| Distance | Beam With | Footcandles |
| 3.3ft | 4.6ft | 113 fc |
| 6.6ft | 9.2ft | 28 fc |
| 9.8ft | 13.7ft | 13 fc |
| 13.1ft | 18.3ft | 7 fc |
| 16.4ft | 23ft | 5 fc |
The 6 inch LED Commercial Ceiling Light Sloped Ceiling Reflector Square Trim Model No: VBD-COM-6-3K-6SLS, VBD-COM-6-4K-6SLS, VBD-COM-6-5K-6SLS is a lighting fixture that can be used in commercial settings. It operates at an input voltage of 120-347V AC and has a wattage of 20W, drawing an input current of 0.2A.

The light is available in three different color temperatures: 3000K (Warm White), 4000K (Natural White), and 5000K (Daylight). It has a brightness of 1570Lm and a beam angle of 70º. The trim type of the light is an open reflector trim, and it comes in white color.

The light has a lifespan of 50,000 hours and is dimmable with 0-10 dimming. The package content includes a J Box structured engine and a reflector trim. The dimensions of the reflector are diameter- 189mm (7.43 inches) and overall depth- 177.8mm (7 inches). The cut size dimensions are 154.5mm (6 inches).

The light is UL and Energy Star certified, ensuring its safety and energy efficiency. The fixture is suitable for sloped ceilings and can be used in commercial settings, such as offices, retail stores, and other similar applications.