OTM-TD30 0-10V Dimmable Constant Voltage LED Driver 12V 24W
OTM-TD30 0-10V Dimmable Constant Voltage LED Driver with Input Voltage: 100-130V AC, Input Current: 0.24A, Input Frequency: 50-60 Hz, Efficiency (η): η>85%, Output Voltage: 12V DC, Output Current: 2000mA, Max Load: 24W.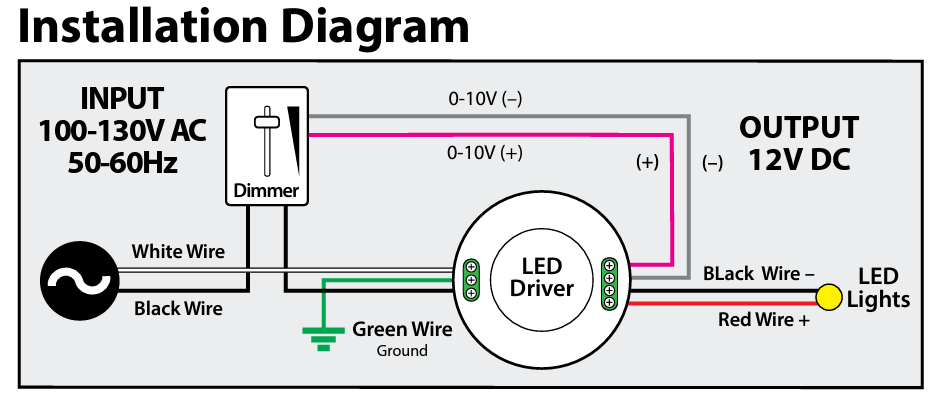 Model No:

OTM-TD30

Input Voltage:

 100-130V AC

Input Current: 0.24A
Input Frequency: 50-60 Hz
Efficiency (η): η>85%
Output Voltage: 12V DC
Output Current: 2000mA
Max Load: 24W
Dimmable: Yes (0-10V Dimming)
Power Factor (PF): PF>0.95

IP Rating: IP20 (Dry and Damp Locations)
Class Certifications: Class 2
Dimensions: 
ø 72.4mm (2.85in)
Depth 26.8mm (1.05in)
Wiring/ Housing: Hardwire
Ambient Temperature(Ta): 40℃
Case Temperature(Tc): 80℃
Certificates: FC/ UL/ RoHS
The OTM-TD30 LED Driver is a dimmable constant voltage driver designed for powering LED lighting fixtures. It operates with an input voltage of 100-130V AC and an input current of 0.24A at a frequency of 50-60Hz.

The driver has an efficiency of over 85%, ensuring that it consumes minimal power and produces less heat. It provides an output voltage of 12V DC and an output current of 2000mA, with a maximum load of 24W.
The driver is compatible with 0-10V dimming systems, allowing you to adjust the light intensity to suit your needs. It has a power factor greater than 0.95, which means that it operates with high efficiency and reduces the harmonic distortion in the system.

The driver is designed for use in dry and damp locations with an IP20 rating, making it suitable for indoor installations. It has Class 2 certification and meets FC, UL, and RoHS standards. Easily fits in a 1-Gang Standard Box or Single Gang Box.

The dimensions of the driver are ø 72.4mm (2.85in) in diameter and 26.8mm (1.05in) in depth, with a hardwired housing. It can operate at an ambient temperature of up to 40℃ and has a case temperature limit of 80℃, ensuring safe and reliable operation.

Veroboard constant voltage 12V 24W 0-10V dimming LED driver easily fits a standard junction box. According to National Electric Codes (NEC), An LED driver needs to be mounted in an enclosed case for safety requirements. And, the junction box is an approved electrical box for encasing all the wiring connections and electrical devices. This UL-listed LED Driver is specially designed for an easy fit inside the standard junction box. Moreover, the standard j-box can be easily mounted in a ceiling, on walls, or in cabinets and meet inspection requirements for both residential and commercial spaces.