OTM-TDJ12 Triac Dimmable Constant Voltage LED Driver 12V 12W
OTM-TDJ12 Triac Dimmable Constant Voltage LED Driver with Input Voltage: 100-130V AC, Input Current: 0.26A, Input Frequency: 50-60 Hz, Output Voltage: 12V DC, Output Current: 1.0A, Max Load: 12W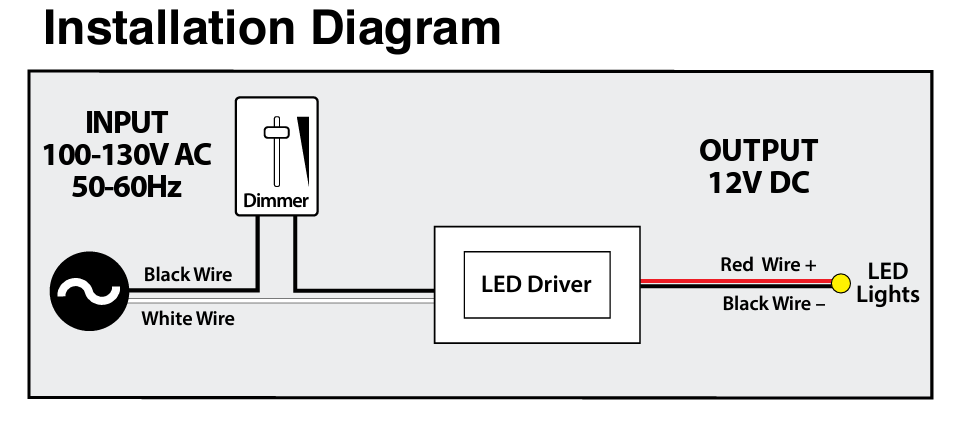 Model No:

 OTM-TDJ12

Input Voltage:

 100-130V AC

Input Current: 0.26A
Input Frequency: 50-60 Hz
Output Voltage: 12V DC
Output Current: 1.0A
Max Load: 12W
Dimmable: Yes (Triac/ Phase-cut Dimming)

IP Rating: IP20 (Dry and Damp Locations)
Class Certifications: Class 2 
Dimensions: 139.7 x 45 x 27.27mm (5.5 x 1.7 x 1.0in)
Wiring/ Housing: Hardwire
Operating temperature: at least 90℃
Certificates: FC/ UL/ RoHS
Veroboard Constant Voltage Triac Dimming LED Driver works with any standard Leading Edge MLV, TRIAC, or nearly many Lutron/ Leviton dimmers. The dimmer switch installed should be on the 120VAC side of the LED driver.

The OTM-TDJ12 is a Triac dimmable constant voltage LED driver that can handle a maximum load of 12W and has a 12V DC output voltage. It has an input voltage range of 100-130V AC, an input current of 0.26A, and an input frequency of 50-60 Hz. The driver is capable of Triac/Phase-cut dimming, and it is rated IP20 for dry and damp locations.

It is certified as Class 2 and has dimensions of 139.7 x 45 x 27.27mm (5.5 x 1.7 x 1.0in). The driver is designed to be hardwired, and the operating temperature of the driver is at least 90℃. It is certified by FC/UL/RoHS.